ECOPHANT Sea Moss Gummies
€ 23,95 € 14,95 Incl. tax
Sea Moss Gummies are a power source of vitamins and minerals and give you a healthy and natural boost! It is also easy to take and tasty. The perfect addition to a healthy diet.

Contents: 60 gummies
Product description
Sea Moss Gummies are a power source of vitamins and minerals and give you a healthy boost. Would you like to have a healthy digestion, strengthen your joints, support your thyroid gland, let your skin shine and boost your energy? Then these Sea Moss Gummies are the perfect daily treat for you. Real Irish sea moss, bladder wrack and burdock root give this gummy its green colour, 100% natural and vegan & gluten-free. The jar contains 60 gummies that will last you a month. Getting the right vitamins and minerals has never been so easy (and delicious).
Gives your body a healthy boost
A healthy and responsible snack
The perfect addition to a healthy diet
Easy to use
A daily snack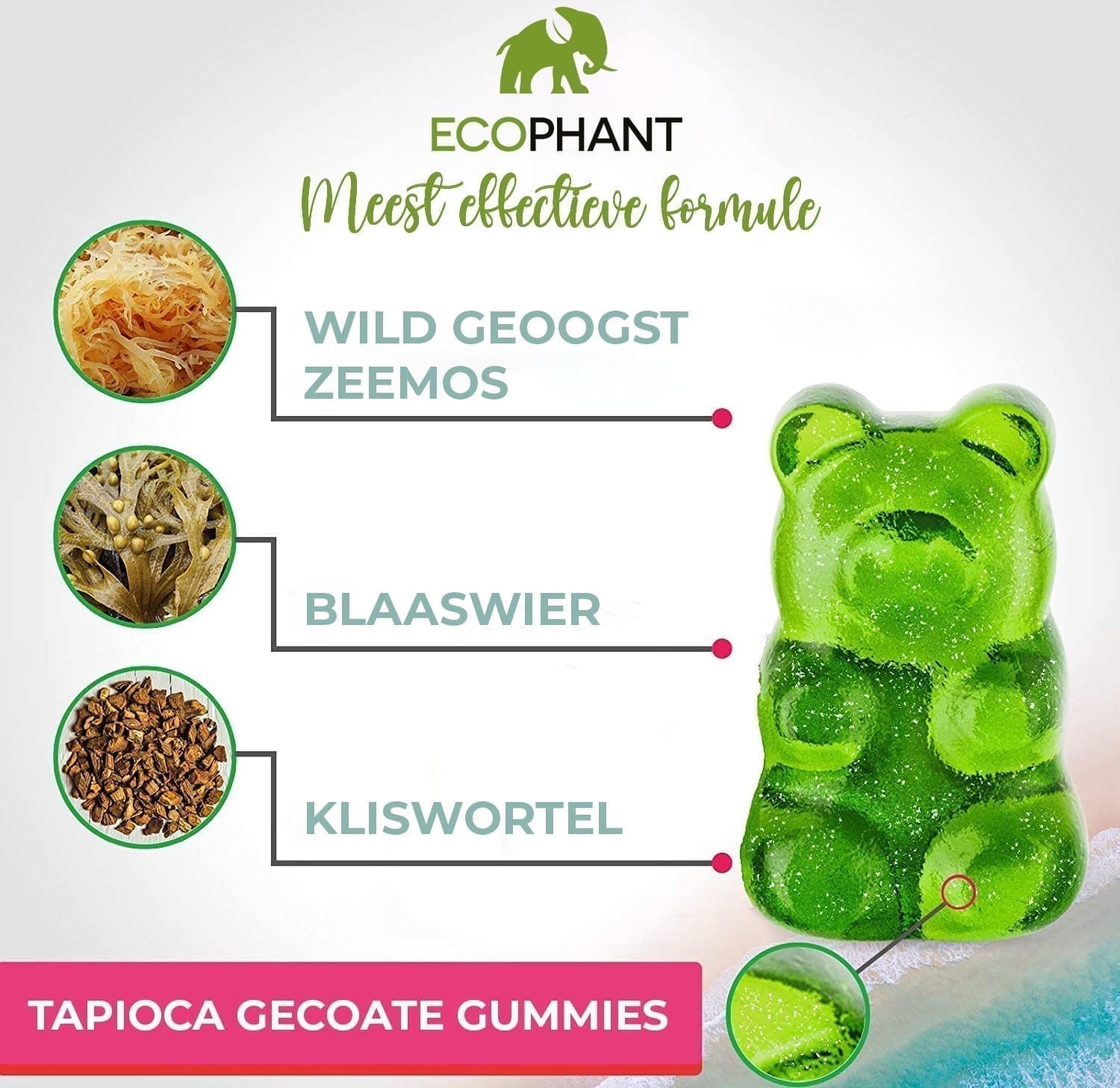 Specifications
Ingrediënten per dosering van 2 gummies:

Calories

15 kcal

Koolhydraten

3 g

Suikers

3 g

Iers zeemos

1500 mg

Blaaswier

600 mg

Kliswortel

400 mg

Appelcider azijn

200 mg
05-07-2021 10:02

Sarah

Ik had zelf nog nooit van Sea Moss gehoord in gummie vorm. Ik ben positief verrast door de gummies. Ze zijn erg lekker en ik voel me een stuk energieker sinds ik ze neem!
22-06-2021 14:46

Liesbeth

Smaak is bijzonder lekker!
22-06-2021 14:45

Frank

Ik sta versteld van de goede smaak, ik neem ze elke dag en ik ben erg tevreden over het resultaat!
22-06-2021 14:44

Fleur

Toen ik ze bestelde dacht ik dat het echt een muffe smaak zou hebben maar hij is echt super lekker!
22-06-2021 14:44

Milou

Ik wist niet goed wat ik van de smaak moest verwachten, maar het heeft een milde appel smaak
22-06-2021 14:43

Joëlle

Op aanraden van een vriendin gekocht, erg lekker